Both musicians studied with Cuban guitarist Professor Joaquín Clerch at Robert-Schuman-University in Düsseldorf. They both succeeded in competitions as soloists and got awarded several scholarships, i.e. Richard-Wagner-Scholarship, scholarship of the Live-Music-Now-Association founded by Yehudin Menuhin and the "Werner Richard - Dr. Carl Dörken"-Foundation. They have been playing concerts from Europe to India. In 2014, they passed the entrance exam for the Royal Academy of Music in London.
Alex Vido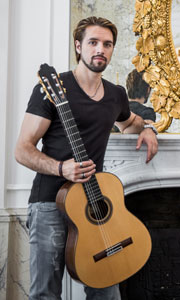 Born on December 7th 1991 in Serbia, Aleksandar Vidojevic started playing the guitar at the age of five and performed his first concert at the age of six.
From 2000 to 2006, he took part in various competitions in Germany, Serbia, Austria and Bulgaria, at which he was awarded six first prizes, one second prize, two third prizes and other special awards.
After moving to Germany in 2002, he started to take private guitar lessons with professor Svetislav Ceca Madzarevic in Cologne, while performing in multiple concerts and participating in the International Guitar Competition "Forum Gitarre Wien" in the non-age-limit category.
After attracticting the attention of renowned international jury with his perfromance, he was recommended to Prof. Joaquin Clerch in Düsseldorf.
One year later, at the exceptionally young age of 13, Aleksandar Vidojevic became a student of Joaquin Clerch at the Robert Schumann Hochschule in Düsseldorf.
Parallel to his studies, Aleksandar attended festivals and masterclasses with world-class guitar teachers and performers such as Kazuhito Yamashita, Marco Tamayo, Costas Cotsiolis, Zoran Dukic, Jorgos Panetsos, Aleksandar Hadzidjordjevic and Aniello Desiderio.
Aleksandar's visits to his home country of Serbia have always been accompanied by concerts, interviews and live performances on various television networks. In his hometown, he has been honored numerous times for his musical achievements.
Martin Zimny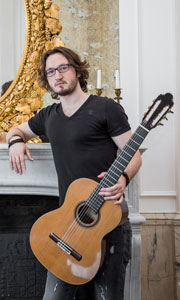 Martin Zimny, born October 2nd 1988 in Munich, Germany, graduated as "Master of Music" from the Robert Schumann Hochschule Düsseldorf, Germany with Cuban guitarist Joaquín Clerch.
He won prizes in several national and international competitions and played concerts across Europe, from Spain to India. He took part in festivals and workshops in Austria, Germany, Spain, the Netherlands and Serbia.
Before moving from Bavaria to Düsseldorf in 2009, he studied with Augustin Wiedemann in Munich and joined the "Hermann Hauser Guitar Foundation" as a scholarship holder.
In 2010, Martin Zimny recieved the "Live Music Now" scholarship, founded by Yehudi Menuhin in London, which allows him to perform in numerous charitable venues.
In 2013, he recieved the Promos-Scholarship that enabled him to play a concert tour in India. In the same year, he was awarded the Richard-Wagner-Scholarship and the Sommerakademie-Mozarteum-Scholarship. He also got awarded the scholarship oft he PROMOS-Foundation which enabled him to play concerts in India.
He recieved and attended masterclasses by some of the most renowned names of the classical music scene, such as Eliot Fisk, Marco Tamayo, Carlo Marchione, Zoran Dukic, Roland Dyens, Dimitri Illarionov and many more. Furthermore, he attended masterclasses and lectures by Nikolaus Harnoncourt, Alfred Brendel, Siegfried Jerusalem, Tom Krause and Grace Bumbry.
Martin Zimny has been working as a guitar instructor for almost 10 years. Besides teaching private lessons, he was employed in several municipal and private schools.
Besided guitar, he studies musicology and Early Music with Prof. Antony Spiri and plays in several chamber ensembles and rock bands. He took part in the orchestral production of "Dido and Aeneas" by Henry Purcell in collaboration with "Deutsche Oper am Rhein" as a basso continuo player.